Edmond Terakopian is a London-based freelance press and commercial photographer. In 2006 he was named "Photographer Of The Year" in the British Press Awards, and picked up the third place in the spot news catagory of the prestigeous World Press Photo. He is also a multi award-winning short film maker.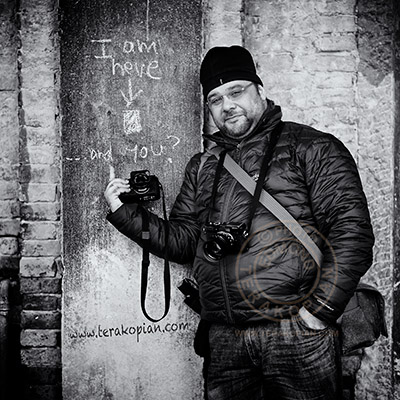 He is a full-time freelance photographer, with a client list past and present including The Guardian, The Times, the Press Association(PA), Agence France Presse (AFP), Associated Press (AP), The Evening Standard, Eyevine, Polaris Images and the Daily Mirror [view full CV], as well as various PR agencies.
His work has been syndicated by AP, PA, AFP, Getty Images, Gamma, Eyevine and Polaris Images.
He has also been a regular contributor to Time Out Magazine in London and has also been published in other publications as diverse as War Report, Time, Newsweek, foto 8 and various newspapers and magazines, both nationally and internationally. He has been also a contributing writer to the British Journal of Photography.
He is in receipt of several Kodak Press Awards for Photography and Printing and won a major award in the M.I.L.K. competition [http://www.milkphotos.com/]. He has also won a Trinity Mirror prize for his fashion photography and been awarded the prestigeous Prize of Prague.
In 2006 he won a World Press Photo award in the spot news catagory [http://www.worldpressphoto.nl/]. He has also collected a special award from the Picture Editors' Awards.
His work has been in several exhibitions and was included in the M.I.L.K. exhibition which toured major international cities from 2001 to 2003. His work in the World Press Photo exhibition toured over 80 cities around the world. He has also had solo exhibitions in the city of Prague and St James's Palace as wella s sveral other group exhibitions.
Previously he was a senior staff photographer at the Harrow Observer and Wembley Observer newspapers.
He is a member of the BPPA (British Press Photographers' Association) [http://www.thebppa.com/] and for several years served on its committee. He has also over the years conducted portfolio reviews for the BJP and been one of the judges for both the Student and Regional Press Awards for several years.
He runs a successful blog, Photo This & That [http://www.photothisandthat.co.uk/]. His work is available for publication as digital downloads or in print form for collectors and enthusiasts from Photoshelter [http://edo.photoshelter.com]
In recent times he has turned his attention towards film making alongside his photography, and his first short film Muse (which won an award for Best Film Editing in 2009 and is a Vimeo "Staff Pick"), is available to view at [Vimeo]. He is also part of TAPTV and filmed the powerful documentary on the RNOH [Vimeo]. His video work has continued to pick up awards and can be seen at [Teravision].
He also teaches bespoke one on one workshops to both professional photographers and enthusiasts as well as being a guest lecturer at the LCC's MA Photojournalism course.
His passion for street photography and documenting daily life can be seen on his [Flickr] page were he regulary posts these images.
Edmond Terakopian can be contacted by email via THIS LINK.